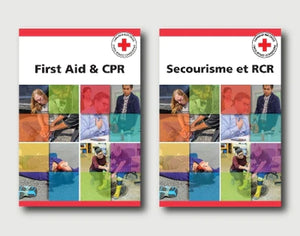 Canadian Red Cross First Aid & CPR Manual
Purchasing this Canadian Red Cross manual will mark in our system for it to be provided to you when you attend your scheduled training at a Life Preservers studio. If you wish to pick up your manual before your scheduled training, please email us at admin@lifepreservers.ca 
Note that all participants are given access to the soft copy version of the Canadian Red Cross Manual. Please check your confirmation email after registering for a course with Life Preservers First Aid to access your PDF manual. 
Canadian Red Cross First Aid & CPR Manual
A step-by-step guide to first aid and CPR for home and work. Content includes responding to emergencies, what to look for and what to do for airway, breathing and circulation emergencies in adults, children and infants, wound care, head and spinal injuries, bone, muscle and joint injuries, sudden medical emergencies and environmental emergencies. This manual is a great addition to any home or workplace first aid kit.
Full colour photographs and illustrations throughout.

Meets the latest First Aid & CPR International Guidelines.
4-colour cover and interior
Saddle stitch binding
64 pages
Measurements: 6.5" x 9.5" / 16.51cm x 22.86cm
Weight: 0.29lbs
Language: English