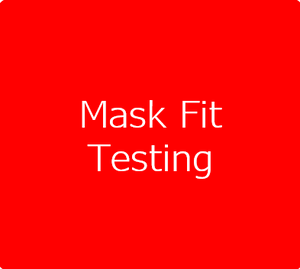 Mask Fit Testing - N95
ATTENTION: Please wait for "Select A Location" to appear, then from the dropdown choose the location for which you want to view course dates.

Please note that you will be refused entry if you arrive late.

- You MUST be clean-shaven as the test cannot be performed with facial hair
- No eating, drinking or smoking 15 minutes prior to testing


N-95 MASK IS INCLUDED WITH YOUR PURCHASE
Specs:  Supplier: 3M  Product Spec:  N-95 8210, N-95 1860, N-95 1870
The following topics will be covered by the instructor:
Respirator selection

Respirator limitations

Sensitivity test and fit test

Donning and user seal checks

Storage and maintenance instructions

Cartridge dating, change frequency and limitations.
If you have completed a Mask Fit Test in the past - please bring your old certificate with you.
Upon completing the course successfully, participants will receive:
1 year certification in Respiratory-Fit Test
Duration: 20 minutes

Kindly refrain from consuming coffee, tea, or food at least 1 hour prior to your mask-fit test as this could interfere with the accuracy of the result. 
Life Preservers First Aid has a NO REFUND policy as a lot of effort goes into planning our courses and scheduling our instructors. However, if you contact us more than 48 hours in advance we would be happy to reschedule you to another convenient day or hold a course credit for you.