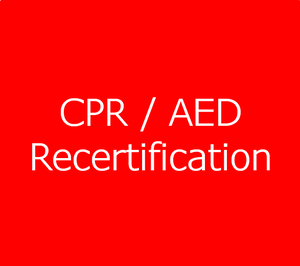 CPR / AED Level A or C - Recertification
ATTENTION: Please wait for "Select A Location" to appear, then from the dropdown choose the location for which you want to view course dates.

This course involves 4 hours in-class - there is no online component.
Canadian Red Cross - CPR / AED Level A or C Recertification

Prerequisite: CPR/AED Level A, CPR/AED Level C
*Previous certificate must be valid. Expired certifications are not eligible for renewal.
This is a Recertification course designed for students that have a current CPR/AED Level A or C certification from one of the following providers only: Life Saving Society, Canadian Red Cross, Heart & Stroke, Canadian Ski Patrol, or St. John's Ambulance.
Red Cross CPR Level C and AED Recertification Courses are available from Life Preservers First Aid Training at our various training centres across the Lower Mainland.  We serve Burnaby, Coquitlam, Richmond, Surrey, Delta, North Vancouver, East Vancouver, West Vancouver and North Vancouver.
Students taking this class will review the materials covered in the CPR level C (children) and CPR level A (adults) course.  The recertification course will cover the same topics as the full CPR Level C course with a focus on recent changes and standards set by the Canadian Red Cross or the Life Saving Society. 
Students will be provided with the skills needed to recognize and respond to CPR emergencies and choking for adults, children, and babies depending on the level of CPR chosen. All include using an automated external defibrillator (AED). Courses are suitable for those looking for training for the workplace or for their own general interest.
Participants must bring their previous CPR Certification Card to class.
Requirements for completion:
Skills demonstration
100% attendance
Grade of 75% on the written test
Previous CPR Certification Card
Upon completing the course successfully, participants will receive:
3 Year Certification Card in CPR / AED Level C or
3 Year Certification Card in CPR / AED Level A
Duration: 3-4 hours 
This course is offered at multiple locations. View Map.
Please note that Life Preservers offers both Red Cross and Lifesaving Society classes. If you require a specific class, please call the office to book.
Life Preservers First Aid has a NO REFUND policy as a lot of effort goes into planning our courses and scheduling our instructors. However, if you contact us more than 48 hours in advance we would be happy to reschedule you to another convenient day or hold a course credit for you.